I love to use fairies and other folklore in my songs that I create to teach my students about science and other fun topics.

Mr. Brown, Educational Songwriter & Science Teacher

This month's playful personality is Mr. Brown. His songs are full of imagination and have a tenderness to them that is quite magical. I was instantly charmed by each of his videos on his Youtube channel which we've included at the bottom of this story. Topics covered in each of his songs are diverse and unique and range from his seasonal fairy series to many science-related topics, to a fun spelling song. You see, he's a science teacher and has a playful approach to teaching through songs but what's even more unique about his collection of songs is his use of fairies & folklore that can't help but appeal to the magical side of a child's imagination – the perfect place to teach from! He's speaking to kids in their language – the language of wonderment and curiosity. We are excited to be featuring Mr. Brown and his educational songs just before Earth Day and appreciate his commitment to sharing his passions for nature and science with these impressionable, young minds – and hearts!
SPRING FAIRY SONG REViEW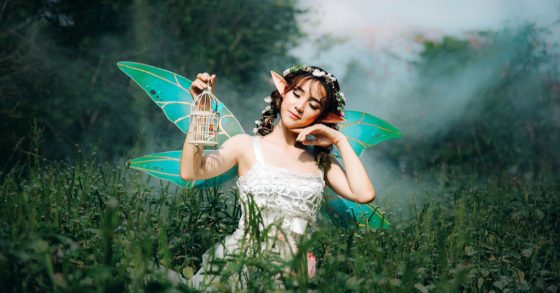 Mr. Brown has recently released his Spring Fairy Song, which I just love and look forward to using in my early learning music class soon. It's imaginative, charming, and full of wonderment. Mr. Brown's tender vocals add a quality that is enchanting and draws you in – especially for young children. The lyrics are both educational and full of that storytelling quality that young kids look for. I can't wait to see how the children respond to this. I imagine us making all sorts of props and acting this out. I can't wait to ask them if they feel a little spring ferry sitting on their shoulders and if they can describe her to me. Maybe they'll even draw her.
Q & A With MR. BROWN
KiDS NEWS & REViEWS: Why have you chosen to create seasonal songs through the theme of fairies?
MR. BROWN: I've used fairies in my seasons' songs because I am hugely interested in folklore and so much folklore involves fairies and other magical creatures which I think are a representation of the magical interaction humans can have with nature. As a songwriter, it just feels like the perfect way to express that magic and catch children's imaginations. I've recently got into a book series called Herb Fairies by Kimberley Gallagher as well and have been using them in my teaching because they just breathe so much magic into the way children view nature. It opens up really amazing doors. My Fairy series was also massively inspired by Sara Mullet. I found some poems and activities on her website about seasonal fairies and two of my songs incorporate a couple of lines from these poems. I basically read those lines and heard music in my head straight away and so these songs are very much a tribute to her too.
KiDS NEWS & REViEWS: Tell us a little more about yourself and your unique combination of interests.
MR. BROWN: I am an Outdoor Classroom/Music Teacher and educational songwriter who is passionate about sustainability and the growing of wildflowers, trees and herbs. I just try to portray in my songs the excitement I have for science and wildlife and hope a positive message comes out of it. Science is such an important subject for young children to learn about; it feels like we are at a crossroads at the moment where we need to raise as much awareness as possible.
KiDS NEWS & REViEWS: We agree! Are you interested in writing about any other topics?
MR. BROWN: I'm also hoping to release a series of songs all about mindfulness and meditation (calm classrooms are the way forward). I think I could end up writing songs about all sorts of subjects in the end and might even start taking requests, so the possibilities are endless. I'd like to do spelling songs for tricky words too and maybe some phonics stuff. I have lots of other fun ideas too but at the moment, I'm just hoping that these songs find their way into classrooms and are useful to teachers.
KiDS NEWS & REViEWS: I'm sure they will! Tell us about some of your other songs that you've already created.
MR BROWN: One fun project was my decomposition video since there are some photos of rot pots which were real experiments I did with a class I was teaching. You can find it on my Youtube channel.
KiDS NEWS & REVIEWS: We did check out this video and others on your channel and they were great and should prove to be very useful in classrooms. Is there a summer fairy coming as well?
MR. BROWN: Yes, there certainly is a summer fairy song coming out in the summer. It is called, Leafy Hat (The Summer Fairy) and I will be using my Kazoo in it!
Thank you Mr. Brown, for sharing your magical fairy songs with us and other educational songs. We love what you're doing and look forward to sharing your new songs as they come available. Looking forward to seeing your kazoo and hearing your summer fairy song! In the meantime, we will share your links below for our followers to enjoy!
FOLLOW MR. BROWN AS THESE LINKS