Let's make kindness contagious!

Written by Sammie Vance
Hi I'm Sammie Vance. I'm eleven years old and I live in Fort Wayne, Indiana. I love to spread kindness and encourage others that they can too! In 2017, when I was 8 years old, I heard about buddy benches at a church camp. A buddy bench is a place for when someone is lonely, shy or bullied, where they can sit on it and others will know to ask them to play. I had been lonely and knew other kids were too, so I knew my school needed them. I drew a comic explaining how a buddy bench worked and spoke to my principal. He said we would try and get one in a year since collecting 400 pounds of caps needed for one 6 foot bench may take awhile.
Being the go getter that I am, I did this project differently because I collected lots of plastic caps and lids myself to make the buddy benches! I spread the word by asking lots of friends, classmates, pharmacies, coffee shops and other businesses to help me collect caps. With the communities help, we collected 1,600 pounds of caps in only 2 months! This was enough for 3 buddy benches for my school with plenty of leftover caps to help other schools get started.

I found that metal is expensive and rusts and wood has splinters, but recycling plastic caps cost less and would help the environment! In the past 3 years I have helped groups get over 150 buddy benches all over the US!! While collecting all these caps, my mom found a company (Green Tree Plastics in Evansville, IN) that takes plastic caps and recycles them into benches. Sammie's buddy bench project was started! I got to team up with Walgreens to give 75 buddy benches to schools all over Indiana. UPS helped me ship 13 buddy benches to 12 different states!
I have learned many things through this. How to speak in front of crowds, to work for something you want and to dream big! Now you only need 200 pounds of caps for a bench which means groups can reach their goal faster.

Sammie
When Covid started effecting our country, I still collected caps and spoke about buddy benches but wanted to do something more to cheer others up! I started Sending Smiles by Sammie. Everyday since school closed in March, I would sent out an encouraging letter in the mail and include a little laminated smile. I would love to send a smile to every state in the US and beyond! Spreading smiles and kindness is so important.
From pen pals to teachers and veterans, I sent these to people I knew and didn't know.

Sammie
As I head back to school I am faced with lots of emotions and uncertainties. I am required to wear a mask and as my school is doing hybrid I am not in the same group with most of my friends. This will not get me down. It's all on how you look at it! I am lucky that I get the opportunity to get an education. I made a face mask that says BE KIND and I will meet new friends!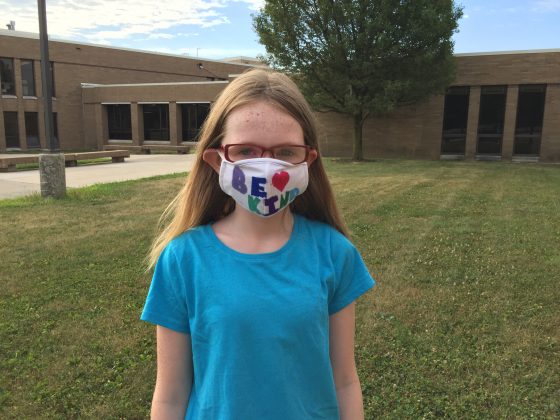 Remember: You don't have to be an adult to make a difference, you can be a kid too!

Sammie
Thanks for reading my story! Check out my website here to see some of the cool things that I have accomplished and what I'm currently up to because I believe in myself, and you can too! Like I have said many times, you don't just have to be an adult to make a difference – us kids can too! Also, please get in touch and let me know if you would like me to send you a smile or if you want to start collecting caps to get a buddy bench for your school. I would love to hear from you! You can also follow me on my Instagram feed here – and be sure to check out my Press Page at this link!