Performing songs for families and seeing the kids and their parents laugh and smile while they sing along fills my heart! However, it wasn't until I attended Westside Music Together classes with my own children that I was inspired to be a music educator myself, as well as write my own children's songs and perform them.

-Katie Brock
Interviewed by Lorrie Holmes
Q & A on KATIE BROCK
KiDS NEWS & REViEWS: Our first question is not for Katie but rather for Katherine of West Side Music Together since Katherine is responsible for the creation of this story. So Katherine, can you please tell us why you offered to sponsor this story when I followed up with you about a recent story where we featured your music program.
KATHERINE: "Sure! We are so happy to sponsor a story on our alumni Music Together teacher Katie Brock. She taught Music Together with us for 13 years and we are thrilled to support her adventures in songwriting and performing! After working at Music Together for a number of years Katie began experimenting with her own songwriting and it was clear she had a gift. I love the playful lyrics and sweet melodies she creates and it's been a joy to watch her build her repertoire. She has such a creative spirit and a giving heart and I wanted to help her share her gift more widely so more families can experience what her songs have to offer. After teaching at West Side Music Together for 13 years we would of course welcome her back in a heartbeat but we are thrilled to support her new adventures in songwriting and performance!"
KiDS NEWS & REViEWS: Katie! Can you tell us a little bit about yourself?!
KATIE: Of course! I am Katie Brock of Katie Brock Music. I love to write fun and interactive songs that I perform for kids. Growing up, I always loved to sing in choirs and perform in musical theatre productions. I am the youngest of three daughters and I have definitely been considered "the ham" or the entertainer in the family.
KIDS NEWS & REVIEWS: Tell us about your experience of being a music educator with West Side Music Together and how this experience has contributed to your career as a songwriter and children's performer.
KATIE: Katherine Deane was my family's first Music Together teacher. I still remember the first class my kids and I did with her back in 2005. The encouragement of parent participation, the beautiful songs, the philosophy, the research behind the program, and the joyful atmosphere in these classes – it all made my heart sing. I went home and learnt every song from that first Music Together CD and imagined myself teaching the class! It wasn't long after that first class that Katherine noticed my 'uber' keenness and loud singing voice and she suggested I do the Music Together teacher training and apprentice with her. I leapt at the opportunity. Katherine was an amazing mentor for me and became a very good friend. I worked for West Side Music Together for thirteen years teaching my last class at the Gleneagles Community Centre in December 2019. During my years as a Music Together teacher I met so many families in my community and I enjoyed spreading my love of music and empowering families to make music part of their everyday life. I loved working with Katherine as she runs an amazing program and she was always there to share ideas, help with any issues, and offer her advice and guidance.
KIDS NEWS & REVIEWS: That sounds like an amazing experience! We understand that this also led into you becoming a children's performer. Can you also tell us about this.
KATIE: Yes it did! So many families in my classes asked me to come and perform at their children's birthday parties, I formed a musical duo with my friend Colin Calnan and we became "Katie Bee and the Buzz" in 2009. We sang at many birthday parties and a few community events around town. When Colin moved away, I met Susan Lepin and "Ginger and Snap" was born. "Ginger and Snap" had an EP of my original songs that can be downloaded here. We are probably best known as the Grouse Mountain Breakfast with Santa Elves who performed a Christmas sing along show in the Theatre in the Sky for three years running. Other "Ginger and Snap" highlights include many "Ready Set Learn" and "Welcome to Kindergarten" performances at various Vancouver elementary schools as well as daycare and preschool shows and community events such as "Live and Local" in North Vancouver. My favourite memory of performing as "Ginger and Snap" was a show we did at the Centennial Theatre in 2018.

KIDS NEWS & REVIEWS: That all sounds so fun! We understand that you also write a lot of your own songs and you have a special one that has recently been released that is very timely for kids returning to school. Can you tell us about this song?
KATIE: Yes! I think my Brave song is important right now given that kids and parents are dealing with so much uncertainty around school and life in general. The heart of the song is about facing your fears when embarking on something new and right now everything feels new. I sing it when I'm nervous or scared about something and it always helps me and I hope it helps a child to feel brave and strong too!
KIDS NEWS & REVIEWS: We love your song – thank you for sharing! It really is timely and gives children and their families and even educators a lot to think about any even discuss, especially while returning to school during this pandemic. How has Covid effected your business as a children's performer and educator?
KATIE: Unfortunately, when Covid-19 hit, Snap and I couldn't get together to rehearse. I miss her hilarious sense of humour and her beautiful harmonies which made our duo such fun to be a part of, but sadly, I realized it was time to work under my own name and go solo. I also realized I could share my songs and humour online as a way to help families in quarantine brighten up their day. Once BC moved into Phase Three of Covid-19 and things began to open up a bit, the idea of "Musical Walks" was suggested to me by my own guitar teacher, Kris Schutlz of "Horizon School Of Music". I've run with this idea and it has really taken off this summer.
KIDS NEWS & REVIEWS: Can you tell us what else you've been up to with your music through Covid?
KATIE: When Covid became a reality here in Vancouver and families were all staying home, I couldn't help but think of those parents with little ones and wonder how they were managing to get through the day. I remembered when my kids were young and how long days could feel if you weren't able to get out and see other people, do different activities, or have Grandma stop by. I felt like I could be helpful by offering sing-along sessions on Instagram and Facebook Live, and by producing Youtube videos of music classes featuring some of my original songs for the very young. So, in the beginning, I threw myself into filming five Youtube videos a week and offering Instagram Live sessions almost every day. One thing that made me so happy was my teen children joining me for some of the videos and singing with me or accompanying me on the guitar or ukulele. After a few weeks, I toned it down a bit as I was getting worn out! But it was so nice to connect with children and parents through their comments during the Instagram and Facebook Live sessions. And I also received many lovely supportive emails from people who were enjoying what I was doing. I also started to offer "Front Porch Birthday Serenades" where I would visit a birthday boy or girl and sing a few of their favourite songs either in their garden or by their front door.
One particularly touching gig was when I sang outside a care home in Vancouver for Nurses Appreciation week. It was actually a busy as well as a very creative time for me and I've been very busy writing new songs!

Katie Brock
KIDS NEWS & REVIEWS: Can you tell us a little bit more about your Musical Walks.
KATIE: Once we moved into Phase Three of Covid-19 the idea of "Musicals Walk" began to take shape. Being outside in small groups of people while keeping a distance was going to work! My guitar teacher Kris had suggested the idea to combine my love of the outdoors and being active with sharing my music. My hopes were to create an engaging, playful and healthy activity during this time of physical distancing for families with young children. And voila! The seed was planted and "Musical Forest Walks with Katie Brock" came into being the very next week. I started with two walks a week and now I am up to six. I keep the groups small and everybody does their very best to stay physically distanced. I usually choose a park that is quieter and has space to spread out. We begin by singing a few songs and then we move along usually to a tune for a short distance and then we stop and sing again. I use some well known traditional songs that kids and parents love as well as many of my original songs. I get inspired to write new songs each week as each week has a theme. This past week was "Magic and Fairy Tales" so I wrote "Eunice the Unicorn Loves To Dance" and "I Have A Wand For You". Next week is "Kindness and Rainbows!" Because this has been such a difficult time for so many families, I came up with the idea of a small surprise gift for each child to discover either during or at the end of the walk. I have made little pine cone fairies, painted rocks with inspirational messages, painted driftwood fish, made paper butterflies and this past week I made a magic wand for everybody out of sticks, twigs and ribbon. The kids have loved them! And everyone's joy and smiles when they find the surprise makes me so happy. So many parents have written to tell me their children play with the gift at home and sing the songs they learned during the walk. Although it is time consuming, I have found that creating the surprise each week has been a mindful and relaxing activity for me. However, I have had to ask the help of both my immediate and extended family in order to make so many crafts each week. But we have had fun doing it!
KIDS NEWS & REVIEWS: Can you tell us what's next for Katie Brock Music – what type of classes are you offering your families and are you writing/recording any of your own songs.
KATIE: Moving forward to September, I am planning a five week session where parents sign up for the same class each week. Classes will be small, we will be spread out, and we will be outside. When the weather turns later in the fall, I'm hoping to record many of the new songs I have written so that next Spring and Summer there will be an album to accompany the walks. I have so many songs I would like to record and I am currently raising money to help me do this. The tough part is going to be deciding which songs to use! I also plan to go back online and share my music that way but I am not sure yet of the format. I'm still working on this. I will either do more Instagram Live sessions or set up a private Facebook Group that families can get a monthly subscription to and be part of Live sessions there.
Thank you again Katie, for sharing your story with us and to Katherine of West Side Music Together for sponsoring this story. We look forward to updating our followers when your first album is ready for us to review!
Follow Katie Brock Music and learn more about her programs, forest walks, and her upcoming original songs at Instagram, Facebook, and Youtube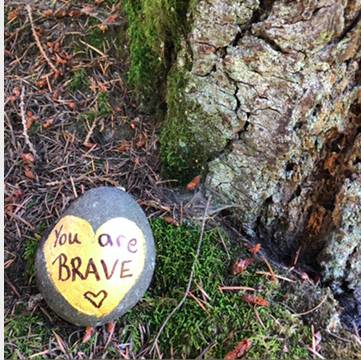 This story is brought to you by