Written & Illustrated by Saraa, Age 12. Saraa lives in Vancouver, British Columbia
My name is Saraa and I am twelve years old. I'm really excited that my story will be shared on Kids News and Reviews. It's about how I feel about this Thanksgiving. I am excited about this because I think that a lot of other kids might be feeling the way I do too, and that is why I'm writing this story.
I think a lot of other kids might be feeling like me this Thanksgiving even if they do not have to write an assignment about it.

-Saraa
I am being homeschooled because of the Coronavirus. This is my last year of elementary school and it feels strange to be learning from home and for Mom to be my teacher for now. I am writing this story for my Language Arts assignment. My assignment is to write about what I am thankful for this Thanksgiving. I felt sad about trying to think about what I feel thankful for. I also feel a little bit guilty about feeling sad about all the things I am not feeling thankful for. I feel this way because I know there are a lot of other people in our world that have bigger reasons to feel less thankful. That is because I know I have a special person in my family that I can turn to when I feel sad or confused. I can share my feelings about this with this special person. For this reason, I feel a little bit less strange and a little bit more thankful.
Grams is this special person I am talking about. She likes to help me when I'm feeling sad. I'm really really happy that she is living with us now. She has her own room and she even brought her very favourite chair when she came to live with us. She always sits in this chair when we play games or watch a movie or when I need her help. She helps me by listening to me or just sitting with me when I have nothing to say. Grams always seems to know what I'm feeling. When we sit together, she always waits a long time before saying anything. I am so thankful every time she does this. It helps me a lot when I can see how much she likes to listen to me or just sit with me and do nothing else.
It is kind of like she is doing everything when she is doing nothing. This is why I talk to her about things.

-Saraa
Or we sit with my thoughts and feelings and I love it when she explains it this way to me. It's really neat because I always know what will happen. I always know that no matter what I say, or what I feel, or what I think, I will feel this way with Grams when I'm done.
When my Grams saw that I was sad today about this, she told me that is was okay that I wasn't feeling thankful right now. When I asked for her advice, she suggested for me to make a list of all the things I feel unthankful for, and then to make a list of all the things I do feel thankful for. Then she just sat and waited and didn't say anything else, and I liked it because it made me feel kind of confident in some strange way.
At first, I didn't understand why she asked me to do this. I thought this would make me feel even sadder. Grams always gives me good advice when I ask for it, so I decided I would try. We have a pact between us. It is a cool pact. Our pact is that we hear each other out. I heard Grams out about making these two lists, and I started to think about what I would put on them. Grams made some tea for us to share together. She always makes tea when we are about to have one of our talks, or our sits. And I waited for her in my seat across from her special chair.
Grams always sits in the same chair, and so do I. I love sitting here and looking at her special chair as I wait for her. Soon, she will come sit here with me, and share her blanket that she leaves on top of her chair. I'm so thankful for my Gram's chair, and her blanket.
Sometimes I think she keeps her blanket on her chair just to remind me that it is there. It is there just for me. I never take it off her chair because it is not the same when I wrap it around my shoulders. I like the way she does it.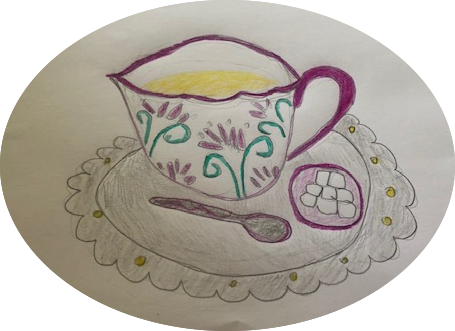 A few moments later, Grams came into the room with a tray and our tea and sugar cubes and milk and special cookies that she calls our tea biscuits!
Grams scooped up two sugar cubes for me with a very cute little spoon and looked over for me to pour the milk. We do it this way every time. Then she stirs her tea and places her little spoon on her saucer and then my favourite thing happens. She looks over and she winks at me and she does this every time. And then I take her spoon and I do the same exact thing, except that I do not wink back. That's because it's her special thing to do for me and I like it that way. Then I put her spoon on my saucer. I could have my own spoon, but I like to share hers. She has a cute little glass filled with little sweet spoons, but I like to share hers. I always wait for all these things to happen, and I feel so warm and happy when we are ready to drink our tea together.
"Okay then. What do you have?" Grams asked me.
I wasn't sure if she meant what am I thankful for or what am I unthankful for.
I looked at Grams and I didn't know where to start, and then I did. I started with what I was thankful for, and that was my Grams.
Thank you Saraa, for submitting your story to us for this Thanksgiving. It was so much fun to mentor you to tell your story so vividly. We would like to invite other kids as well to submit stories about their own thoughts, feelings, or opinions to share with our readers. You can get in touch with our editor and kids writing coach, Lorrie Holmes at lyricalnote@me.com if you would like to learn more about how to create your story for us.