Hi, my name is Addy Barrett. I am 13 years old and I live in Germantown, Maryland. Ever since I was in first grade, I have been working to raise money and awareness for the endangered mountain gorilla. It started when I read a book about mountain gorillas and how critically endangered they were. I immediately wanted to do something so I went home and made a poster. I got a lot of support from friends and family, and the rest is history.
I really like to make my projects educational, but also fun so that I can captivate younger audiences. Over the past several years I have sold t-shirts, hosted three Gorilla Galas, initiated a Gorilla Hi 5 challenge, made gorilla toys and so much more. Through these efforts Gorilla Heroes has raised over $13,000 for gorilla conservation.
My all-time favourite project is the Gorilla Gala. The Gorilla Gala is an annual fundraiser where my friends and family come together to learn a bit about the species, and participate in activities. All the proceeds go to The Dian Fossey Gorilla Fund, and The Ellen Fund.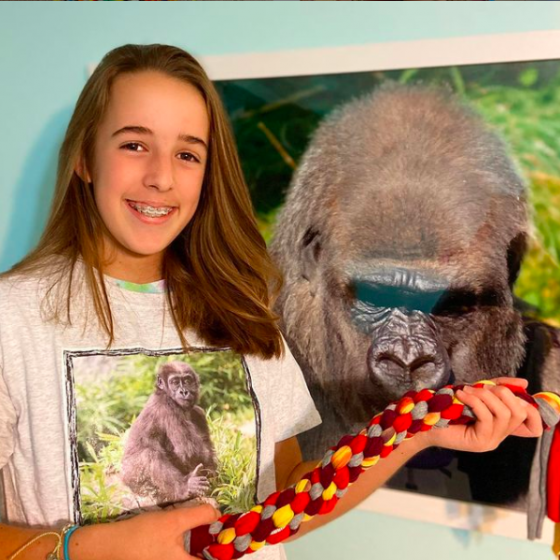 Another one of my favourite fundraisers was the Gorilla Toys Campaign. I loved this fundraiser because it aimed to help both gorillas in the wild, and gorillas in zoos. We made rope toys out of recycled t-shirts, and for every $50 raised, we made another toy. These toys then went to the National Zoo in DC, and we had an awesome day watching the gorillas and orangutans play with their toys.
-Addy Barrett, Youth Change-Maker
Because of the Covid 19 pandemic, the 2020 Gorilla Gala had some challenges. Obviously we couldn't have a bunch of people come together for an event, but we knew we still wanted to do something. We decided to host a Virtual Gorilla Gala which had three main components: An online auction, a collection of videos to share with our supporters and a livestream celebration to share the fundraising total. The auction was a huge success and included items donated from The Ellen Fund, Gorilla Glue, Maine Beer Company. It also featured several art pieces created by some special friends, an autographed copy of The One and Only Ivan (one of my favorite books!). The two videos we shared represented what I love most about the Gorilla Gala: education and silliness! In the first video, I challenged friends to a gorilla-themed trivia race while wearing oversized clothes stuffed with balloons (you might just have to watch the video to see for yourself–it's hilarious!). In the second video, entitled Uniting for Gorillas, we invited people of all ages and expertise from around the world to share why they love gorillas. Finally, we hosted a virtual livestream event where we shared our fundraising total and played another fun gorilla-themed trivia game for our viewers. In the end we raised over $2,600 for gorilla conservation and we are so happy with the way it turned out.
I first applied to the Barron Prize in 2019, an organization that celebrates kids making a difference in their communities and around the world. I had had a few successful projects and really was interested in the prize. I found out that I was a winner in September, and I couldn't believe it. So many kids were doing so many amazing things!
The Barron Prize has a project called Inspiring Young Heroes (IYH) that creates videos to help some of the kids they have honored to tell their stories. Both Barron Prize and IYH have helped me a lot by connecting me with other young activists, and teaching me about so many other projects and issues. I am so thankful for that connection. I worked with Inspiring Young Heroes this year to capture footage of the Virtual Gorilla Gala for their IYH@Home series, which was created to show kids that you can still make a difference during the pandemic. You can see the video here! 
In the future, I hope to have a successful 2021 Gorilla Gala, and to continue to educate others about the importance of wildlife conservation.

Addy Barrett, Youth Change-Maker
My wish for 2021 is this – I hope that even though these are strange times, and the holiday season will be very different this year, I hope that everyone can make the best of it, and still find a way to appreciate the good things in our lives.
Follow Addy on Youtube
Follow Addy on Twitter