THE VANCOUVER AQUARIUM is one of my fondest childhood memories of a place that will always be close to my heart.

Haylee, Youth Supporter of Vancouver Aquarium
Like many other amazing organizations world-wide, we have decided to focus on The Vancouver Aquarium for NATIONAL VOLUNTEER WEEK. That's because it's an organization that hits very close to home in our family. When reflecting back upon the life of my family, it's played a huge part in providing joy and enrichment to us, and especially to the interests of our daughter, Haylee.
Turning 15 this summer, Haylee will now reflect back in her own words on how the aquarium has been instrumental in supporting her personal interests and providing her with opportunities that she hopes will continue for herself and all those kids behind her who share her love for the ocean and all its creatures who live in our waters. At the end of this story, Lindsay Baker, Manager of Volunteer Services, has shared some links about how we can support the aquarium and I sincerely hope this story reaches as many people as possible with fond memories of this magical place and that together, we can make the difference that is needed to keep this special place afloat to provide opportunities for generations to come in ocean conservation and animal research which also extends to the Vancouver Aquarium Marine Mammal Rescue Centre – the only one of it's kind in Canada.
"This all started when I was in preschool. We were learning about oceans and the beach. Then our teacher, Miss Dawna-Lynn, read us a book about sharks, and I was hooked. I slept with my own copy by my head for years and cuddled up to it. I laughed when my mom would cringe at the rows of jagged sharp teeth that peered up from around my pillow, as if they were hiding behind this fluffy coral reef. I slept quite peacefully with this book next to me. Sharks aren't as scary as most people think. We humans are much scarier in fact. We're the ones that hunt them down and cut off their fins and throw them back in the water to drown, and all for a bowl of overpriced soup", Haylee pauses then continues. "I guess you can say that I became obsessed with sharks back then. I can't really explain why – I just am. They are very misunderstood, like anything else that looks or acts different."
Sharks don't behave the way we would expect them to by looking at them. There are over 200 species and many of them are not predators. They all have different traits, just like us, so they don't need to be stereotyped either.

Haylee
"Haylee's love for sharks and shark research has never been approached as something she'd like TO DO when she grows up, it's just something she naturally DOES on her own – and that has been beautiful to watch as a parent," explains Haylee's mom, Lorrie Holmes. "Haylee's love for sea animals extends far past sharks, though they are her favourite. She is very knowledgeable about many sea animals. I remember once when Haylee was enjoying a game of animal charades as a warm-up activity in a class she was registered in at the local recreation centre", Lorrie reflects. "When other kids were choosing bunnies and kitties to act out in this game, Haylee wondered why her peers and program leader couldn't guess what she was pretending to be – which was a nurse shark on her first turn and a blue ringed octopus on her second. According to Haylee, it really wasn't that difficult – but that remained to be seen by the rest of the group who stood by, scratching their heads. It was so much fun to watch."
Haylee's fascination with sharks and interest in sea life in general, lead her into the doors of the Vancouver Aquarium at the tender age of five, when she attended her first camp, and she never looked back. Haylee continued until she was old enough to volunteer herself a few years back – she started as soon as she was old enough to be accepted into the program. "I have loved all my time at the aquarium – especially the time spent in the wet labs at camp, and watching the mammals being fed. These are my favourite memories of the camps – and whenever we were able to dissect and learn about animal biology – it was all super interesting. These were my favourite camps that I attended as a kid, and then being able to just walk around the aquarium afterwards. It was great." Haylee reflects.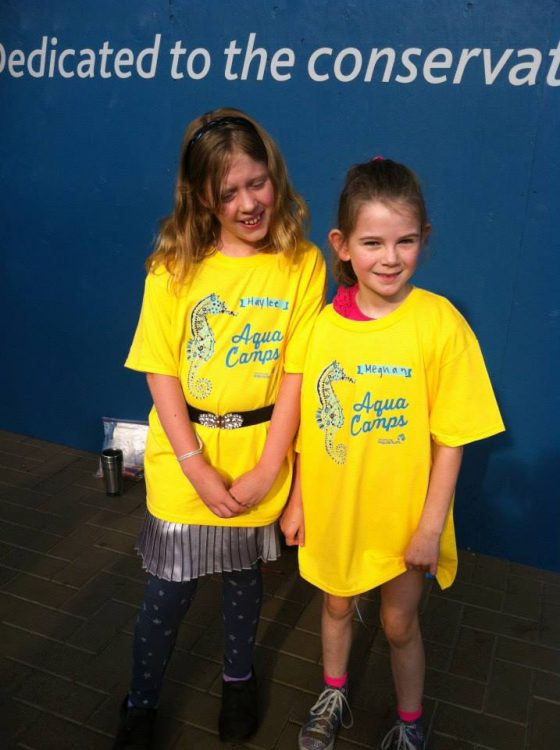 CLOWNFISH COVE

SHARING PROPS WITH THE PUBLIC

WOULD YOU LIKE TO TOUCH A REAL GREEN SEA TURTLE'S CARAPACE?


HAYLEE & MOM MODEL USING YOUR PINKY WHEN TOUCHING SEA ANIMALS

ENJOYING SOME FRESH AIR AT AQUACAMP.
"I was so excited when I was accepted into the family volunteer program! I loved preparing for our entry interview. We had to research a type of sea animal that best represented our family that we needed to present in a presentation. We chose the clownfish and came wearing clown noses and did this whole presentation. It was fun." Haylee explains with a smile on her face.
"As her parent chaperone, my fondest memories of joining Haylee in the Family Volunteer Program was watching her communicate with the public. She would happily sign out props from the props room and set up a shark exhibit or sometimes something else such as a blow fish or a sea turtle. Or to be in charge of Clownfish Cove and hold a sea urchin in her hand and encourage children and their grandparents or parents to use their pinky to gently touch the animal – I felt proud and also appreciative that Haylee was given this opportunity to explore her passion to this extent as such a young age. It's such an amazing program that fosters aspiring biologists and researchers and anyone else who has a passion like this to become immersed in hands-on research, training, and mentorship opportunities. I sincerely hope we can find a way to come back to this for our kids and our community at large." Lorrie Holmes.
"One experience I will never forget is when Mom and I were on our way to volunteer for a shift at the aquarium one morning, while waiting for traffic, a turtle crossed in front of us at the end of our street – RIGHT ON THE CROSSWALK! We couldn't believe our eyes! We pulled over and I grabbed the turtle. We went home and called our supervisor to tell them we would be delayed and they gave us a number to call to enquire about how to best help this misplaced turtle. We were told to return the turtle to the nearest body of water which was in the pond in front of where we live. So this is where he or she must have made their great escape. So we returned the turtle, washed our hands inside, and then continued on our way to the aquarium. I felt so excited – like this is what it would feel like to really be a marine biologist." Haylee smiled. "I hope that the aquarium reopens soon so kids like me get the chance to continue working on our passions and learnings and are able to volunteer. Also, we need a lot of volunteers to run such an amazing organization to continue with the research to learn more about the needs of these animals and our oceans." Haylee offers in a more serious tone.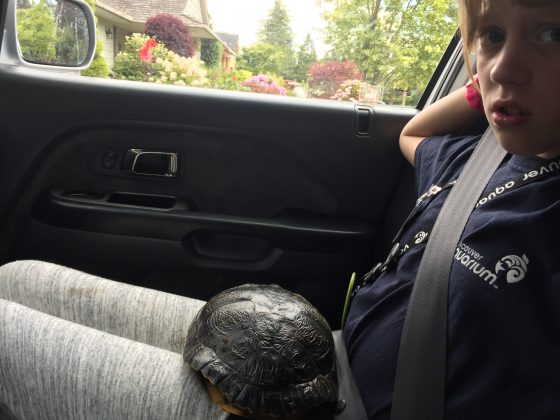 "Every year that we volunteered, we were able to attend the annual Family Volunteer Sleepover. It was AMAZING! In the photo below, we slept in front of the beluga exhibit when they were still living at the aquarium. We got to go behind the scenes and had extra long tours during these sleepovers. It was all just amazing." Haylee offers. "Behind the scenes tours were very interesting," adds Chris Holmes, Haylee's dad. "And also, it was very enjoyable watching the animals being fed in the morning before the aquarium opened up to the public. These are great memories," Chris reflects.
"Thank you Haylee for this beautiful story about your experiences at the Vancouver Aquarium. We sincerely hope to see you back here soon, along with all the other volunteers, staff, and guests! "

Lindsay Baker, Manager of Volunteer Services
Here is what the rest of us can do to support the aquarium.
We have asked the Government of Canada and the Government of B.C. for emergency funding to sustain our core animal care costs and help us survive this closure. We are hopeful that they will come through for us and are still waiting for a response. But we also need your help.
Here are three ways you can save the Vancouver Aquarium:
Write your MP to tell them to #SaveVancouverAquarium with funding from the Government of Canada


Spread the word and share your most cherished Aquarium memories on your social media channels and use #SaveVancouverAquarium and #loveourVA