Our primary goal at West Side Music Together hasn't changed. It's still to encourage families to make music together at home. Teacher to Parent, Parent to Child, and Teacher to Child – inherently, it's that connection that we continue to strive for. This has always been the primary goal of Music Together – and it's right in the title!


Katherine Deane,
Teacher and Centre Director
West Side Music Together
Written by Lorrie Holmes
From academics to arts, sports to technology, music schools and studios are not unlike many other programs now being offered to children and their families from home. West Side Music Together is one such program, teaching the fundamentals of music to children and their families. And like many others during this pandemic, they have also needed to come up with innovative ways to offer their programs. Although our province is starting to open up more and more services, we have decided to continue to focus our stories for the time being on what is being offered from a safe distance. Last week, we interviewed holistic nutritionist, Juliana Avella, of Made Simple Nutrition, about how to educate ourselves with nutrition education being our first line of defence against this virus as we start venturing out from the safety of our homes. Today, we have decided to profile a music program that has come up with their own innovative ways to keep us connected as the pandemic continues to veer its ugly head in unexpected ways and places. We're happy to introduce you to such a music program called Music Together, which might not be that new to you at all. As a matter of fact, it's a widely recognized program that has been running for years and is known worldwide for it musically rich curriculum and layers of support between teachers, caregivers, and their children. They are just doing things a little differently these days. Today we are happy to share our interview with Katherine Deane, Centre Director and Music Teacher of West Side Music Together which is located in Vancouver, British Columbia. It was a pleasure interviewing Katherine and learning about how her team approached their own unique challenges during this pandemic – that being how to use their curriculum to continue to support caregivers to connect with kids through using their online platform. Katherine explains to us how they are doing this and also, how they are keeping kids of varying ages all engaged at home, from the other side of the screen.
Q & A WITH KATHERINE DEANE OF WEST SIDE MUSIC TOGETHER
KIDS NEWS & REViEWS: How has your role of music teacher changed for you since taking this online?
KATHERINE: There has been a learning curve involved in being able to successfully transition to this platform. We are appreciative for all the support that we received from Music Together worldwide as they offered a lot of training to their staff and in turn, we were able to offer the same level of training to our own staff on how to successfully create that Music Together connection online. Thankfully, so far, it's all working out really well.
KiDS NEWS & REViEWS: It sounds like a major undertaking to take a studio based music program as enriched as yours which sounds very in-depth in it's approaches and curriculum, and offering it through an online platform.
KATHERINE: Essentially, the only change in our program is in its delivery. Parents have always shared our music and curriculum from home between classes, so that part has remained the same. And of course, our goal of maintaining that connection has as well. We do this by not only supporting children in music but also, by supporting parents and all other caregivers to share in the experience with their children. This primary goal of support that we have offered in the classroom is what we are trying to transfer online, so this has been our biggest challenge – to preserve within our program, the connection between the parent, grandparent, or any other caregiver, who in turn will then connect with the child through music as opposed to music being put into the child by the teacher while the parents stand by and passively watch. The reward here is in the connection of music being shared between parent and child, and so far, so good. It's been worth the investment in being able to keep this level of connection, and it's beautiful to support, and to witness.
KiDS NEWS & REViEWS: There seems to be different types of support that are offered in your programs that I haven't seen in many other programs. Are you able to break these down into categories as you seem to have a very focused goal for each one of them.
KATHERINE: Of course! Our program is broken down into three parts: Parent to Child. Teacher to Parent. Teacher to Child. Let me break this down further!
PART ONE – THE PARENT-CHILD CONNECTION
KATHERINE: Let's start off with our primary goal being to support our parents. The reason we start here is because we are wanting to support not only parents, but all caregivers of our children, to be able to share the music with their children and to not just stand on the sidelines. To get down on the floor with the kids, and pick up the shakers. To not feel intimidated and to just have fun within the safe bubble of Music Together. There is no judgement here. Nobody is critiquing pitch and rhythm and tone, or whether you are able to play along with an instrument. It's just about experiencing and enjoying the music. It's about stepping outside your shell and modelling this behaviour for your children so they will follow along and find that courage within themselves, to explore and participate.
KiDS NEWS & REViEWS: Can you give us an example of what this might look like – your focus on the parents and encouraging them to participate.
KATHERINE: Yes! We encourage parents to firstly create a space in their home which might feel like they're sitting on the floor in the classroom. By creating enough space, they'll be free to move their legs and be able to sit comfortably beside their child and interact with the teacher – and maybe even the other parents in the live Zoom class, or while following along to one of our videos mid week between classes.
KiDS NEWS & REViEWS: That's impressive that you're offering two different formats as it's twice the work!
KATHERINE: I guess, but it also offers twice the options for parents. With all that's going on in the world, many families do not have the predictability of their regular routines with many family members being home – at least part time – and so things can shift on any given day without notice for these families. If the weekly scheduled Zoom class isn't jiving with their day, then they don't lose their class – they can just sign up for a make-up class when they need to. And of course, they can watch videos during the week to still stay connected.
KiDS NEWS & REViEWS: Do you find that you are getting the connections you are looking for so far with this platform?
KATHERINE: Surprisingly, yes – especially with Zoom. We chose this platform so we could offer our families the real time experience and we're so happy we did. It feels more personable which is where the connection can still be reinforced. Being able to talk back to the families in real time is how we are able to keep the interaction going which is key to establishing the connection. In addition, we are making videos for families to use during the week for following along and we love offering the combination of both formats for families to use. Considering all this, we wanted to offer a diversity in our level of support and delivery by considering what everyone's needs might be.
KiDS NEWS & REViEWS: That's amazing. You have put a lot of thought and planning into all of this. What a rich program!
KATHERINE: Thanks. Yes, Music Together has worked hard to create a rich program for families and this is especially true of the music they have written. This is one of the main ways that we are able to keep everyone engaged, because of our diverse songbook. We do not dumb our music down to the children. Our song advisory board is very conscious in its efforts to offer inclusion for everybody and we pride ourselves on staying relevant to the interests and needs of today's families. In addition to offering multi languages within our curriculum, with also offer very diverse mediums within the musical languages themselves. This includes songs from all modes, along with a wide range of rhythmic elements and styles – from very child friendly ones, to some that are more R & B for the parents, and everything in between. Our music needs to be pleasing to the ears of parents as well if they are to play it over and over again for their children to learn through repetition. And in this learning using repetition by practicing each song between parent and child, this is where the musical connection is established and enjoyed.
One of the big things that Music Together does is we like to educate parents on why we're doing what we're doing. So built into the curriculum is the Parent Education Moment. We do one for every single class. It's a requirement and is a foundational part of our program.

Katherine
KATHERINE CONT'D: Within this, we teach things like musical behaviours that parents might not see in their children as they might not think that it's significant – but it is. And so, it contributes to the child's musical development. If we can identify that little spark for the parents and point it out, then we can help them grow it into something beautiful for their children that may have been overlooked. This is one way that we stay connected to the parents, by providing them these weekly tips.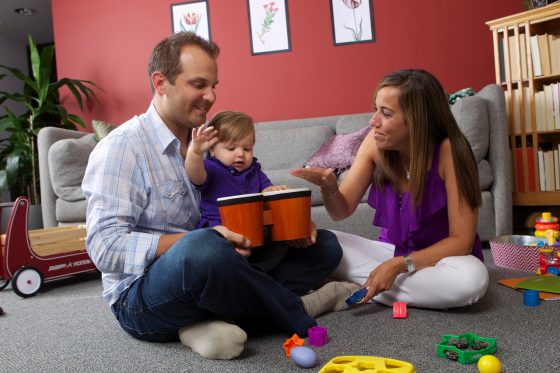 PART TWO – THE TEACHER – PARENT CONNECTION
Equally as important, is supporting the parents who do not feel like they are musically capable. This can be a huge barrier in our classroom and it doesn't need to be. You don't have to sing in perfect tune or have perfect rhythm. One of my passions as a music teacher and also, as a music therapist, is to really support parents to engage in the basic elements of music. And this can go so far to support their own children in their musical development. So supporting parents to embrace their own musical ability where they perceive it to be, this is key to supporting them. We want the parents to have fun and play with music and get the same joy that their children are getting out of it. This way they can model this with joy and confidence. By educating them about the importance in their participation in all of it, this is also key – including all the silly stuff that we sometimes do – there are reasons for all of it.
Through this education and support of their ability to engage, that's how we are trying to connect and support the parents who in turn, are better equipped to support their children.

Katherine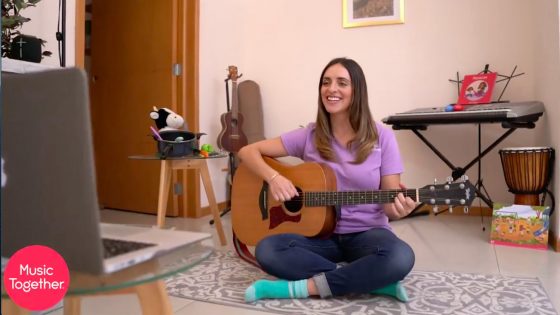 PART THREE – THE CHILD-TEACHER CONNECTION
Last but not least, is our goals of connection with the children. We're trying to support them to engage musically. They can do this by having fun through their play and through the freedom of their own expression, and after that, also through contributing to the music making processes themselves.
Even a baby is contributing to the music making process if the teacher imitates the rhythmic gesture that the baby is doing!

Katherine
KATHERINE CONT'D: To keep the connection between teacher and child we have had to come up with ways to engage the older children while not losing the younger ones. Luckily, our teachers are already very skilled and experienced with mixed aged classes which has been so helpful at this time as we are able to draw upon these skills to involve the older children and ask them for suggestions while always being aware of keeping the class moving at an acceptable pace for all age ranges. It's not as easy as it seems but we've figured this out and are having fun with it. Also, using the children's names often in our classes is always very helpful and they love it – all ages do: from the oldest kids up to eight years, right down to the babies who also take notice when we call out their names.
KIDS NEWS & REVIEWS: This all sounds great. Moving forward, in these times of uncertainty, what else would you like to share with your families with respect to continuing to offer this level of support?
KATHERINE: I'd like to offer a forth part to this actually which is community. We also love to support our communities by personalizing our classes to each of our neighbourhoods that we have been offering classes in. This way, there is a sense of familiarity in the classes. You don't have to choose the Kitsilano class but if you do, and if this is the class you were signed up for before this all happened, then chances are you'll have the comfort of seeing familiar faces in classes – both kids and parents.
KIDS NEWS &. REVIEWS: Well you certainly have given us a very thorough platform for keeping that connection in music moving forward and we thank you for that. Any last words?
KATHERINE: Yeah, so that was our challenge in all of this, to create this connection online with all these different levels using music and this amazing curriculum that Music Together provides. To keep us all together with Music Together. There are a lot of new resources that are being born out of this time. I have a whole team of teachers and we are reviewing them ongoing and look forward to announcing them as we go along.
Thank you again Katherine, for sharing all of this with us. For program information, please visit WEST SIDE MUSIC TOGETHER at WEBSITE and INSTAGRAM.